印度:世界最小的全套木工具——Umesh Jangid制作的全套木工具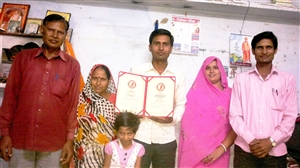 纪录性质: 世界纪录协会世界纪录
纪录来源: 世界纪录协会数据库
纪录编号: 50209-1301-01

印度:世界最小的全套木工具——Umesh Jangid制作的全套木工具
证书编号:50209-1301-01
颁证日期:2013年4月10日
印度斋普尔沙赫布尔市Umesh Jangid先生于2013年1月至2013年2月制作的全套共15件木工具,其中钢锯7毫米、跨笔锤0.5毫米、可调矩5毫米、木制手摇钻直径0.4毫米、斧宽3毫米,创世界纪录协会世界最小的全套木工具世界纪录。
The world's smallest wood working tools
——The wood working tools made by Umesh Jangid
From January 2013 to February 2013 , Mr. Umesh Jangid from Shahpura Jaipur , India made a set of wood working tool. There are 15 pieces in total, with Marking Guage(Adjustable) 1mmX10mm; Plainner: 1mmX8mm; Hacksaw: 7mm Blade; Cross Pen Hammer: 0.5mm, Try Square: 5mm; Wooden Hand Drill: 0.4mm; Screw Driver 0.5X4mm, Axe:3mm etc. It sets the world record granted by the world Record Association for being the smallest wood working tools in the world.